The Edging of Embroidered Badges
When designing/ordering an embroidered badge, one aspect to consider is the way that the edge will be finished.
The main choice is whether to have the badge 'naturally' stop at the cutting edge (a "Laser Cut Edge") or to have a 'woven' frame (a "Merrow Border").

Merrow Border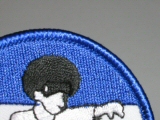 Merrow Border

Laser Cut Edge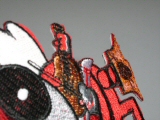 Laser Cut Edge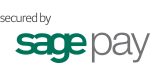 Secure Online Payments

*SPECIAL OFFER - An extra 20% of the quantity ordered will be supplied
for all embroidered badges orders - ONLINE ORDERS ONLY - offer ends January 2014.